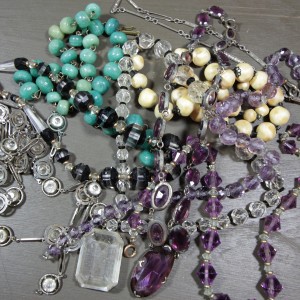 A while back a friend and colleague asked me if I could work with existing jewelry to create a new piece. She explained her Aunt Gertrude, a petite little lady, had items that were too small and just not something she would wear. She loved her aunt and wanted a piece designed from the various parts of jewelry. These are the pieces I was sent.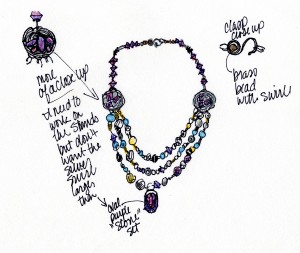 What to do, what to do? I took a picture of the various pieces in different combinations. That didn't quite do it so I "deboned" the pieces. Taking them apart to look at the items as individual units. One thing she did say was she wanted a combination of all the pieces if possible.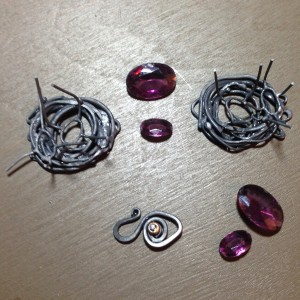 I thought of my style. I looked at the pieces and did a sketch for her to approve. She was very pleased with the sketch and I was on my way.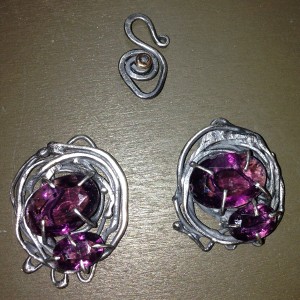 First I made the medallions that hold the three strands of beads and connect the necklace part. I used "stones" that were in bezels that had seen better days. I also made the clasp with one of the brass beads on either side riveted to the clasp.
I strung the beads in random size and order in three strands. The top part that attached to the necklace part is wire wrapped beads and the one style of bead that I had not used in the three strands. The "jewel" that is the focal point was kept in tact in the setting.
What has been created is a unique and contemporary piece that utilized Aunt Gertrude's jewelry. I was able to present the piece to Virginia in person. She was extremely happy with the necklace and now wears it proudly with fond thoughts of her Aunt Gertrude.