Several years ago I made a raw smoky quartz ring. I posted it on my Facebook page and in a matter of a few hours a friend from long ago inquired about the ring. I looked at the other raw stones I had and created the original amethyst ring and posted it on my website.
Fast forward to February 23, I was sitting on the couch having my coffee and checking my emails before getting ready for work. I saw an email from the prop master from CBS's Under the Dome asking about the amethyst ring on my website and explaining it would be for season 3 of the TV show. I also saw an email from Etsy that was sent several hours later from the same person about the same ring. I ran upstairs and showed Alan the emails, he looked the person up on IMDB.com. Yup, legit!! I emailed back and received a quick response, we talked on the phone about creating a deep amethyst ring and off we go!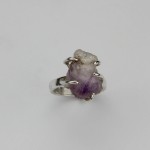 The interesting thing was, I had a person about a month earlier ask about the same ring but wanted deep amethyst. I sourced the deep amethyst and hedging my bet I purchased 5 different deep amethyst stones. I let her know I had the stones and she vanished, never to be heard from again. Thanks to that person because now I had 5 hand-picked raw amethyst stones to use for the rings for Under the Dome.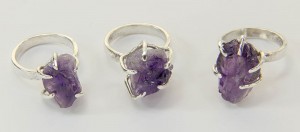 I sent photos of the stones to the prop master, he picked three stones so I made three in total and shipped them off. At this point it was very hard to be quiet but the whole thing needed to be secret until the launch of the show and the ring was actually on screen worn by Marg Helgenberger.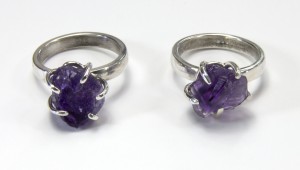 It all happened very fast, it all was very easy and they ordered several more rings with smaller stones and requested some large raw amethyst stones for other scenes in the  show.
I am thankful I had my website because the request came in from my website before Etsy, which is which is pretty dead at this point because it is littered with crafters that sell their work dirt cheap. I am thankful I took the request seriously and I have a husband who is lightning fast at research online and designing bang-up websites with rockin' SEO. The prop master was a super person and a delight to work with.  Watch for my silver and amethyst ring, as seen on TV!