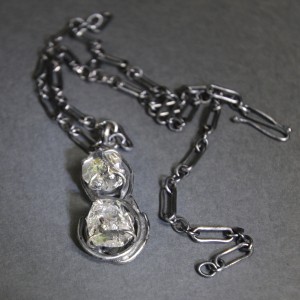 These two stone were selected on a trip to London. I fell in love with these two stone. I just couldn't choose which to get so I purchased both with no clear design in mind. The stones are really stunning and if you look carefully you can see little bits of citrine encased in the stone. Funny thing is, looking up the stones and where they are found it is Herkimer, NY. All the way to London to find these little beauties.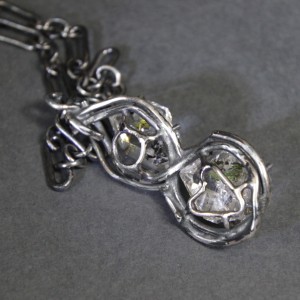 In my style and design I wrapped the two stones in sterling silver with a self bale. I have created this piece for myself but wanted to share it with those of you who have found the website. The chain is a purchased chain that enhances the organic design of the piece. I have added a special touch to the back incorporating a heart and a circle.
If you have a special jewel or something that is special to you for a sentimental reason please feel free to contact me. I'd love to talk to you about your ideas. I have a commission from a dear friend who wants me to create a piece or pieces with her aunt's costume jewelry. I will post that progress on future posts.