For as long as I can remember growing up I have had a paint brush or pencil in my hand. My high school art teacher would always say, if something unexpected happened, that I should look at it as a happy little accident and embrace it into the piece.
I attended Parsons School of Design for either illustration or fashion design but practicality lead me to graphic design then to destination marketing but my creative side popped up and I began making jewelry about a decade ago and I have really enjoyed it.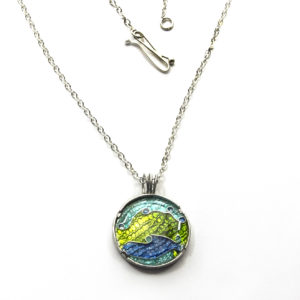 Several months ago a new friend Dawn Lombard, a new transplant to the area and an amazing glass artist and enamelist, introduced me to enamels. LOVED it! Then she asked if I wanted to take a cloisonne class in NJ with Jennifer Park. I did the class and loved it! The ability to paint with powdered glass in vivid colors was so inspiring. The exploration has just started. Here are a few pieces I completed. I can't wait to explore this new, colorful door that opened! A splendid, happy little accident that I am embracing into my jewelry work and seeing where it takes me.