Growing Up Creative
I attended public school in New Jersey and always had a love of horses and drawing, I realized at a young age that the only way to make a small fortune in horses is to start out with a large one. I had little interest in jewelry at that time. Art seemed the most viable career option so I attended Parsons School of Design intent to major in illustration or fashion design. Much of my professional life was as a graphic designer but then moved to the dark side — marketing. I was Vice President of Marketing for the Panama City Beach Convention & Visitors Bureau in Panama City Beach, Florida for six years and lived in the Sarasota/Bradenton, Florida for many years prior to that.
I accepted the position as executive director for the Lackawanna County Visitors Bureau and now live in Moscow, Pennsylvania with my husband Alan and our three black cats–Spencer, Katie and Sawyer. Baldwin, my horse, is now home with us in his new barn. He is a Belgian Warmblood/Friesian cross and 12 years old. I have had him since he was 6 months old.
No Horse, Need a Hobby
When I was between horses while we were living on a farm in Myakka City, Florida near Bradenton, Florida my husband begged me to get an alternate hobby. I was obsessed with my job. I tried quilting; about 2500 little triangles are all cut out and still sitting there to this day. I did go on to sew some clothes, with a few unfortunate items but I had some good ones too. I also started exploring beading and jewelry informally.
There was a bead shop in Sarasota, Beads FOB, and took a fundamental class to get some answers to questions that I had. I found out I was a beading fool! Since I travel a lot for work, after my responsibilities are done for the day, I generally try to explore the city and manage a visit to a bead or jewelry shop. Now addicted to beading and finding unique items, I moved on to jewelry classes at the Manatee Art Center taught by Sue Simon. They opened their jewelry studio and I was in the first set of classes they offered. Eager to solder, saw and file, I truly found my hobby in jewelry-making.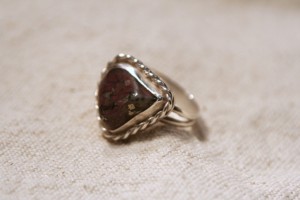 Take a Break
As a member of the Manatee Art Center and the St Petersburg Art Center while living in the area. After moving to Panama City I did not have as much time for jewelry so I stopped for a few years. Panama City does not offer much as far as classes are concerned but I have rejoined the Florida Society of Goldsmiths. Several years ago I traveled to Touchstone Center for Crafts near Pittsburgh, Pennsylvania and took a class with John Cogswell. Last year I took a class in North Carolina with Jayne Redman. Now, in the northeast I have many options for classes, supplies and learning. My studio has grown to a fully-functional workshop and in it all cares of the world melt away!